GGE News - 2000
---
Russian Delegation Visits the Department

The University of New Brunswick and the Association of New Brunswick Land Surveyors (ANBLS) hosted a delegation from the Federal Land Cadastre Service of Russia on 21-24 December 2000. The delegation divided their time among the Land Studies Group in the Department (led by Sue Nichols), the New Brunswick Department of Natural Resources, and the federal and provincial departments of agriculture. The interests of the delegates ranged from resource inventories to aboriginal rights.
Click on the thumbnail image to look at photos taken during an end-of-tour lunch, 37 KB.

Back to the top of the page

---
Welcome shall they be,
And all the honours that can fly from us
Shall on them settle. You know your places well;
When better fall, for your avails they fell
To-morrow to the field
William Shakespeare. All's Well That Ends Well, Act III, Scene I.
Gaggle of New Adjunct Professors Appointed

There are now eight adjunct professors holding appointments in the Department. On 1 July 2000, Alfred Kleusberg's appointment was renewed for a year. Spiros Pagiatakis (M.Sc.E. 1983; Ph.D. 1988), Dave Woolnough (M.Sc.E. 1970; Ph.D. 1974), and Peter Zwart (M.Sc.E. 1980) became new adjunct professors on 1 July for a term of three years. Will Featherstone joined the team on 1 December 2000, again, for a three-year term. Those already holding adjunct professorships in the Department are Yvan Bédard,
Anna Szostak-Chrzanowski
, and Gary Melvin. We welcome the newcomers to the Department.

Back to the top of the page

---
Rima Ammouri Commended by City of Fredericton

On 28 November 2000, Rima Ammouri received a certificate of commendation from the City of Fredericton for her work on an interactive Web site for the Residential Town Plat Secondary Plan. See
previous story
.
Click on the thumbnail image to look at photos taken during the ceremony, 49 KB.

Back to the top of the page

---
International Cooperation Agreement Signed between East China Normal University and UNB

When Prof. Liu Shuren, East China Normal University (ECNU), Shanghai, visited the department in August 2000 (see
previous story
), a draft proposal for international cooperation was drawn up between UNB and ECNU. In November, President Liz Parr-Johnston was in Shanghai and signed the agreement as established in August. ECNU specializes in education and the geosciences for which it is recognized as one of the best universities in China. In the area of the geosciences, ECNU has strong nation-wide research institutes that specialize in ocean mapping, geographic information systems, and remote sensing. GGE's Dr. Yun Zhang, who helped propose the international cooperation, will be working with Prof. Liu in the area of remote sensing. They plan to initiate joint research into applications of the new commercial high-resolution satellite imagery to investigate precision change detection of urban environments, first in Fredericton and then in Shanghai.
Click on the thumbnail image to visit the ECNU Web site.

Back to the top of the page

---
November 2000 Semi-Annual Student Technical Conference

On 23 November, the Dineen Auditorium in Head Hall was the scene of this term's student technical conference. Kevin Pegler and Greg Mulholland headed the graduate seminar committee, while Dr. Yun Zhang organized the undergraduate technical report presentations. As usual, Linda O'Brien, Graduate Secretary, did a lot of slogging getting people moving forward, producing the program, and acting as general factotum for the event. There were three undergraduate presentations, supervised by Drs. John Hughes Clarke and Sue Nichols. The three graduate presentations were supervised by Drs. Langley and Wells.
Click on the thumbnail image to get a better look at some of the participants, 31 KB.

Back to the top of the page

---
International GIS Day at Fredericton High School

On 15 November 2000, Drs. Sue Nichols and David Coleman participated in the International GIS Day seminar organized by CARIS/Universal Systems Inc. at
Fredericton High School
. With over 60 students in attendance from Grades 10 to 12,
Dr. Coleman
led off with a brief introduction to the wide range of applications of geodesy and geomatics in today's society.
Dr. Nichols
then followed with a discussion of how geomatics addresses particular problems in environmental monitoring and land management. Good discussions followed with the students and teachers present. This is the second year that UNB GGE faculty and staff have worked with CARIS/Universal on GIS Day presentations.
Download the GGE presentation at the seminar, a 9.8 MB PowerPoint document.

Back to the top of the page

---
Dave Wells, André Godin Recipients of U.S. Navy Superior Public Service Awards

On 30 October 2000, David Wells (who teaches hydrography at UNB, The University of Southern Mississippi, the University of New Hampshire, and the Universiti Teknologi Malaysia) and André Godin (M.Eng. 1997, on leave from the Canadian Hydrographic Service, Laurentian Region) were presented with Superior Public Service Awards by Rear Admiral Ken Barbor, Commander, Naval Meteorology and Oceanographic Command, United States Navy. The award is comprised of
a large medal
, a smaller medal to wear on the lapel (or navy uniform), a lapel bar, a
Certificate of Award
, and a
citation
.
It is rare that the U.S. Navy awards such medals to civilians, but it is rarer still for non-Americans to receive such an honour. As can be seen in the last sentence of the citation, it appears that there is some confusion about which country Dave and André are serving. The reality, however, is that such an award has never been made to non-Americans, and the wording of that final sentence, by law, could not be changed.
Attending the ceremony in honor of the recipients were Larry Mayer, Dave Monahan, Rob Hare, Lee Alexander, Sam DeBow, Jim Gardner, Mike Harris, and some 30 other guests. "In a fundamental way," says Dave Wells, "it validated the educational and research principles and practice of the UNB Department of Geodesy and Geomatics Engineering, and acknowledges that the new University of Southern Mississippi program would likely not exist without the UNB model to draw upon."
Our congratulations to both Dave and André.

Back to the top of the page

---
Wolfgang Faig Receives Honorary Designation of Dean and Professor Emeritus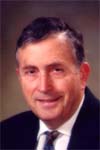 Wolfgang Faig was one of five individuals with distinguished careers at the University of New Brunswick in Fredericton who received honorary designations, for their accomplishments, at Convocation on 22 October 2000. Wolfgang Faig, who became Dean and Professor Emeritus, is recognized as a worldwide authority in close-range photogrammetry. He helped to solidify the university's international reputation in geodesy and geomatics engineering, and has travelled the globe to share his knowledge and expertise. A co-author of two textbooks on surveying, he has authored or coauthored more than 200 research reports and technical papers. Dr. Faig supervised nearly 40 graduate students and served on the external examining committees of more than 60 others. Honoured several times by his peers in the American Society of Photogrammetry and Remote Sensing, he is also an honorary member of the Association of New Brunswick Land Surveyors. As dean of engineering for nine years, he provided leadership to a research-intensive, heavily enrolled faculty.

Back to the top of the page

---
Congratulations to Geomatics Atlantic Scholarship Winners

Dave Coleman (department chair) recently took pleasure in announcing that all three Geomatics Atlantic Scholarships this year went to GGE students.
Ted Byrne
won $2000 and both
Mark MacDonald
and
Burns Foster
were awarded $750 each. These scholarships are open to all university and community college students in institutions across the region, so there is spirited competition for the awards. The three winners were presented with their cheques by Leo Walsh, Secretary, Council of Atlantic Premiers, at the Awards Luncheon held at the 2000 Geomatics Atlantic Conference, World Trade and Convention Centre, Halifax, 27-28 September 2000.
Photos by D. Coleman, 27 September 2000, Halifax.

Back to the top of the page

---
Navigation Symposium: A Strong UNB Presence

UNB will be well represented at
The Institute of Navigation's National Technical Meeting 2001
next January in Long Beach, California. Four papers authored by UNB faculty, staff, and students have been selected by the organizers for presentation:
"An Alternative Method for Detection and Mitigation of Static Multipath in L1 Phase Measurements" by Julio C.F. Farret, Universidade Federal do Parana, Brazil and Marcelo C. Santos, University of New Brunswick, Canada

"Ancient Mapping: An Application of Modern Methodologies" by Peter Dare, University of New Brunswick, Canada

"Estimation of the Stochastic Model for Long-Baseline Kinematic GPS Applications" by Donghyun Kim and Richard B. Langley, University of New Brunswick, Canada

"Precise Orbit Determination of Low Earth Orbiters with GPS Point Positioning" by Sunil B. Bisnath and Richard B. Langley, University of New Brunswick, Canada.
In addition, Prof. Marcelo Santos will co-chair the session "Precise Positioning" and UNB alumnus Prof. Virgilio Mendes will co-chair the session "Scientific Applications, Timing and Frequency."
UNB also enjoyed success at the ION's GPS 2000 meeting in Salt Lake City in September where two UNB papers were presented including Sunil Bisnath's award-winning paper "Efficient, Automated Cycle-slip Correction of Dual-frequency Kinematic GPS Data".

Back to the top of the page

---
Welcome Back Block Party a Success

On 12 September 2000 the First Annual GGE Block Party was held to welcome both new and returning students to GGE. The main hallway outside the Department was closed off between 12 noon and 2:00 p.m.,
pizzas
and pop were brought in, and
a lively time was had by all
. The turnout was impressive, and the staff and the professors were able to meet the new students and discover where they were from and what their goals were. It was also an opportunity for graduate students and senior undergraduates to mingle with those following in their footsteps and to advise them that GGE was the best department with the most impressive employment record on campus.
We plan to make this an annual event, and next time our digital camera will be available to provide better pictures of the festivities.
Photos by W. Wells, 12 September 2000, E-level Head Hall.

Back to the top of the page

---
Peter Dare and the International Merv Project - 2000

During September 2000, Dr. Peter Dare joined the International Merv Project in Turkmenistan. Now called Mary, Merv is the oldest and most completely preserved of the oasis cities along the Silk Route in central Asia.
More ...

Back to the top of the page

---
GGE one of the Sponsors for Digital Earth 2001 Symposium

In June 2001, the geomatics world will turn its attention to Fredericton, New Brunswick, for an international symposium on one of the most exciting frontiers in science and technology. The
Second International Symposium on Digital Earth, Digital Earth 2001
, will be one of the largest scientific symposiums ever to take place in Atlantic Canada, with more than 800 scientists, researchers, academics, government officials, and business leaders from around the globe expected to attend.
With UNB's Department of Geodesy and Geomatics Engineering as one of the sponsors, the Canadian Institute of Geomatics and the Greater Fredericton Economic Development Commission will be co-hosting the symposium at the Sheraton Hotel in Fredericton from 24-28 June 2001.
Under the theme "DIGITAL EARTH 2001: Beyond Information Infrastructure," this symposium has combined the organization and attraction of four separate conferences - normally held separately - into one integrated event:
the Second International Symposium on Digital Earth;

the National Conference on Geomatics and Canadian Institute of Geomatics Annual General Meeting;

the Geomatics Atlantic 2001 Conference; and

TExpo 2001 - an annual regional information technology conference that focuses on emerging technologies.
The first symposium on
Digital Earth
was held in Beijing, China, in December 1999. The 2001 symposium's theme - "Beyond Information Infrastructure" - was chosen to encourage presenters to describe applications, technologies, and activities, now under development or in the planning stages, which will reflect a world where the geospatial data infrastructure is already in place.
Full information on the symposium, including a call for papers, may be found at the symposium web site.
The symposium will cap off a busy 7-10 days of meetings, presentations, and social events at the end of June:
UNB will be hosting the 3rd Annual Conference of the GEOIDE Network of Centres of Excellence - which includes about 200 leading Canadian researchers in geodesy, geomatics, and geographic information science - at the Lord Beaverbrook Hotel in Fredericton, 20-23 June 2001.

Immediately before the Digital Earth symposium, the GGE Department's 40th anniversary and reunion celebrations will be held Friday evening 22 June and all day Saturday 23 June.
GGE Department faculty, staff, and graduate students are already involved in the planning and organizing of all these events. We are looking forward to seeing friends and colleagues next year. BOOK YOUR TRANSPORTATION AND HOTEL ARRANGEMENTS EARLY. Late June is usually a wonderful time of year in Fredericton, we expect a good crowd for these events, and both airline seats and accommodations will be in high demand at that time of year.
Watch the GGE Web pages for more information about all three events.
Click on the thumbnail image to visit the Digital Earth web site.

Back to the top of the page

---
Petr Vaníček Appears in
Canada at the Millennium: A Trans Cultural Society*

"Internationally renowned scientist and professor, Petr Vaníček, Department of Geodesy and Geomatics Engineering, University of New Brunswick (UNB), as conference convenor, addresses, in this view, the Geodetic Aspects of the Law of the Sea Conference, Bali, Indonesia, 1996. He came to Canada, in 1969, as a post-doctoral fellow of the National Research Council, Ottawa. A native of Susice, Czechoslovakia, Dr. Vaníček, was a Senior Scientific Officer, Tidal Institute in Liverpool, U. K., 1967-69, during which time he received his Ph.D., Mathematical Physics, Czechoslovak Academy of Science. In 1969, he applied for a post-doctoral fellowship in Canada. In 1971, he became Associate Professor, University of New Brunswick, and Professor, 1976. In the early 1980s, he was full Professor, and later Adjunct Professor in four departments: Survey Science, Geology, Physics, and Civil Engineering, University of Toronto. Numerous invitations as a visiting scientist and professor have included universities in Brazil, Germany, Sweden, the U.S.A., and South Africa. Author of over 300 articles, conference papers, and editor of the proceedings of numerous symposia, Dr. Vaníček, was author of
Geodesy: The Concepts
, now in its tenth printing, as a standard textbook used in geodesy courses, worldwide. He has won numerous awards: Fellow, American Geophysical Union; the first Canadian scientist to receive the Humboldt Foundation "Distinguished Senior Scientist Award" (1990) and one of the few to receive the U.S. Academy of Science/National Research Council "Visiting Senior Scientist Award." He is also winner, the J. Tuzo Wilson Medal for outstanding contributions to Canadian geophysics, 1996, and was named O'Connor Fellow, Curtin University of Technology, Perth, Australia, 1998. A former President of the Canadian Geophysical Union and member of several other geophysical societies, Professor Vaníček, was awarded a Dr. Sc. (Mathematical and Physical Sciences) by the Czech Academy of Science, 1993, and has raised more that $2 million in support of his research. He was appointed Honorary Research Professor at UNB, 1999."
* Humber, C. J. (Ed.). Canada at the Millennium: A Trans Cultural Society. Heirloom Publishing Inc., Mississauga, Ont.

Back to the top of the page

---
Prof. Liu Shuren Department Visitor

Prof. Liu, Director of the Institute of Remote Sensing of the East China Normal University (ECNU), visited UNB and the department between 24 and 27 August 2000. The two universities have similarities in both research and education that would be a good basis for international cooperation between them. ECNU's research and teaching achievements in the geosciences has placed that institution among the top three in China. Prof. Liu's visit was reciprocated by UNB President, Dr. Liz Parr-Johnston, when she toured ECNU during her recent Asian trip. Further discussions about future cooperation will take place during the Digital Earth 2001 conference in Fredericton in June 2001.
Click on the thumbnail image to get a better look, 36 KB.

Back to the top of the page

---
John Hughes Clarke Down Under for RAN Sea Trials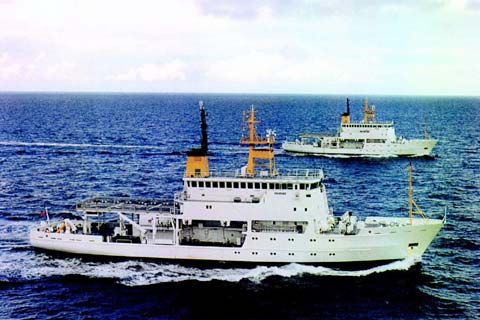 John Hughes Clarke spent the last week in August 2000, completing sonar performance trials for the first of the new Australian Navy Hydrographic Survey Ships, HMAS Leeuwin (A245). She is the first of a pair of new survey vessels to be delivered to the Royal Australian Navy (RAN). HMAS Leeuwin and her identical sister ship, HMAS Melville, are 71 m vessels that operate an ATLAS Fansweep 20-100 multibeam sonar in support of hydrographic survey operations in tropical waters. In the near future, they will take on three survey motor boats, each equipped with Fansweep 20-100s.
John was asked by the RAN to conduct a performance evaluation of the Fansweep sonars in order to assess their accuracy, target detection, and sidescan imaging capability. This involved a six-day operation in the northern Great Barrier Reef between Endeavour and Agincourt Reefs. A report on the conduct of these trials will be released to the RAN in the next few weeks.
Click on the thumbnail image to get a better look at HMAS Leeuwin and HMAS Melville, 32 KB.

Back to the top of the page

---
Welcome to Dr. Peter Dare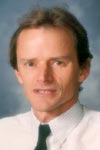 Dr. Peter Dare joined our Department in mid-August 2000 as an associate professor. Dr. Dare obtained his Ph.D. in 1996 from the School of Surveying, University of East London, where he remained as a lecturer then senior lecturer until coming to UNB. Dr. Dare will be teaching geodesy and advanced surveying as well as continuing his research on the Global Positioning System. Peter is a fellow of The Royal Astronomical Society and a Professional Associate of the Royal Institute of Chartered Surveyors (Geomatics Division).
Click on the thumbnail image to go to Dr. Dare's personal page.

Back to the top of the page

---
Homecoming 2000
(by our roving correspondent, Kim Delorey)

We spent a very nice afternoon reminiscing with some alumni on Friday August 4th, 2000. Visiting us were Kim Kelly (née Burlock) and her family from Calgary, Alberta; Keith Douglas from Queens Village, New York; Jim Milbrath from Ottawa, Ontario; David Woolnough from Middleton, Nova Scotia; and Cyril Carlin from Fredericton, New Brunswick. Sue Nichols welcomed our visitors and introduced faculty and staff. The group then spent an hour chatting over punch and cookies from the Goody Shop.
Click on the thumbnail image to get a better look, 25 KB.

Back to the top of the page

---
Educational Alliance has First Meeting

On 11 and 12 July 2000, the first meeting of the tentatively named North American Hydrographic and Ocean Mapping Educational Alliance (NAHOMEA) met in Durham, Hew Hampshire. Attending the meeting were representatives of three universities, two government agencies, and a private enterpriser. The "alliance" among the University of New Brunswick (UNB), the University of New Hampshire (UNH), the University of Southern Mississippi (USM), the Canadian Hydrographic Service (CHS), the U.S. National Oceanographic and Atmospheric Administration (NOAA), and C&C Technologies (C&C) met to discuss ways in which the three university ocean mapping and hydrography programs could benefit from future co-operation. From this meeting, a number of initiatives were identified, including student and professor exchanges, development of course materials, and a series of roving seminars. Also under consideration were the comments made by Jimmy Chance on what C&C Technologies would like to see in terms of improved learning objectives for our graduates, and continuing education opportunities for their employees.
At the same time, Dave Wells was able to present Larry Mayer with a wall hanging (created by Dave's wife, Solveig Wells) for Larry's new offices in UNH.
Click on the thumbnail image to look at photos taken during the meeting, 58 KB.

Back to the top of the page

---
How Larry Got to Meet Bill Clinton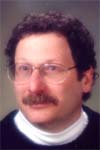 In June 2000, then President Clinton issued an Ocean Exploration Directive that requested the Department of Commerce to consult with other agencies and to convene a panel to provide recommendations for a national oceans exploration strategy. Larry Mayer, in his capacity as Director, Center for Coastal and Ocean Mapping at the University of New Hampshire, was one of 22 Ocean Exploration Panel members. Clinton acknowledged the work of the panel at a special ceremony held at the National Geographic Society headquarters on 4 December 2000. For more information on this panel, see
http://oceanservice.noaa.gov/websites/retiredsites/oceanpanel.pdf

Back to the top of the page

---
Mapping Beneath the Reversing Falls
Canada's Reversing Falls, at Saint John, New Brunswick, are one of nature's more spectacular phenomena. Here the massive tides of the Bay of Fundy battle the enormous outflow of the St. John River. Unlike most estuaries, where the river and ocean mix gradually, a massive rock outcrop restricts and focuses the exchange of water. So intense is the exchange that, for the lower half of the tidal range, the gorge is a waterfall flowing into the sea. Toward the top of the tide, however, the sea level rises above the river level and the falls reverse. Only for two periods of about 10 minutes on every tidal cycle is there a brief moment of standing water at the falls, during which vessels may transit, in this case to conduct an underwater survey.
Click on the thumbnail image to read the rest of the story, 72 KB.

Back to the top of the page

---
Congratulations to John McLaughlin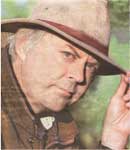 On 1 June 2000, John McLaughlin acquired even more letters after his name. Elizabeth Parr-Johnston, President of UNB, has confirmed that John is assuming the position of Vice-President (Academic) in addition to his duties as Vice-President (Research and International Cooperation). The latter position will continue to be John's responsibility for a period of up to six months. During that time, the University will be reviewing the roles and responsibilities of the research and international cooperation position to ensure that they serve the evolving needs of the University.
Our congratulations to John, and we hope that he can still find time to drop by his home Department periodically.
Click on the thumbnail image to go to Dr. McLaughlin's personal page.

Back to the top of the page

---
Stockholm Challenge Prize Nomination for Rima Ammouri

Rima Ammouri (Ph.D. candidate under the supervision of John McLaughlin) and the City of Fredericton have prepared an interactive Web site for the Residential Town Plat Secondary Plan. The site will include all potential changes to the area inside the city limits, including residential and commercial sites, as well as future plans for the former railway land in the city.
The Web site has been developed by Rima as a part of the research for her Ph.D. dissertation. The interactive Web page enables taxpayers to voice their concerns and residents and even non-resident property owners will have 24 hour access to the town plat. City Council is bound by law, under the Provincial Community Planning Act, to hold hearings and consultations with its citizens. With the Web site, interested parties will now have access to all plans, and City Council will be made more aware of the concerns of taxpayers.
This is Fredericton's first foray into an interactive planning process, and the project has earned a nomination in the public services and democracy category of the Stockholm Challenge: An international showcase for information-technology-spawned improvements to living conditions and strengthened communities. The King of Sweden handed out trophies to the winners on 5 June 2000 in Stockholm.

Back to the top of the page

---
GGE Students Learn by Doing

Our second year GGE 2013 survey camp took on a different and more diverse perspective this year. The students combined their efforts with the GGE 5083 Hydrographic Surveying Operations camp to assist in providing shore control for the hydrographic survey being conducted in the mouth of the Kennebecasis River (a.k.a. Grand Bay). They were also responsible for some smaller projects (topographic surveys, control verification) on the UNB Saint John campus (UNBSJ), and finally participated in a construction survey at Canadian Forces Base Gagetown - the largest military base in the Commonwealth.
Hydrographic Survey of Grand Bay. The hydrographic operations were centred around the Royal Kennebecasis Yacht Club (RKYC) located approximately 4 km from the UNBSJ campus. The students established a base of operations at UNBSJ utilizing their facilities and the Sir James Dunn residence for much needed rest. The establishment of shore control comprised several different projects and a brief description of each is given here.
Running a high precision level loop to transfer the elevation from a local geodetic benchmark to a tide gauge set at the RKYC. To meet the specifications of an official Canadian Hydrographic Service (CHS) level transfer, the students employed the 3-wire levelling technique. The CHS minimum acceptable misclosure is 0.006 m, which, considering the students had to run an approximately 4 km loop, proved to be quite a challenge. Both student groups carrying out the survey, however, got it right the first time.

Establishing two permanent base monuments for GPS RTK navigation. This was done by measuring baselines from a New Brunswick high precision GPS control point located at Millidgeville High School to a point on top of Ganong Hall on the UNBSJ campus using Trimble 4700 receivers and Trimble Geomatics Office software.

Identifying and measuring ground control points for orthophoto rectification. To provide an overview plan of the survey area, the students needed to collect some ground control points for the orthophoto rectification process. They first identified points on the aerial photos and then utilizing the Trimble 4700 GPS RTK system to record the positions. The actual rectification process was done at UNB Fredericton utilizing CARIS GIS software.

Establishing and surveying a water boundary at the RKYC. This proved to be an interesting experience. The water conditions in early May are challenging to say the least; flood conditions and tidal ranges made all aspects of this survey difficult. First, determining the high water mark, which changed virtually from hour to hour depending on flood, rain, and tidal conditions, was almost impossible. Second, conducting the physical survey was further complicated by access problems because of flood condition. All involved learned valuable lessons.
Other Projects
UNBSJ.
Consultations with Dr. James Christie and Cedric Boone (UNBSJ Dept. of Engineering) resulted in the opportunity to perform several other types of surveys. The department required a topographic survey of several locations on campus and there was concern over the validity of one of their control monuments. A brief description of each of the surveys follows.
The students conducted the topographic surveys (approximately 500 points) on two separate areas of the UNBSJ campus designated for possible future construction. They utilized the Leica T1600 and T1010 total stations to collect the data and C&G Survey software to process the data. Once collected, the data were coordinated, a digital terrain model was prepared and contoured, and a final plan was produced.

The students also conducted a control survey to verify the location of a New Brunswick grid monument that had possibly been disturbed by construction activities. Utilizing several other monuments in the area and our newly established control, they preformed a conventional ground control survey and measured a series of GPS baselines to try and determine the best position for the monument in question. Once all the calculations were completed it was determined that the monument was indeed still in its proper location.
CFB Gagetown.
The existing exercise complex at CFB Gagetown was in the process of expansion, and with the help of Robert Stuart, GIS administrator for the base, we were allowed access. At this point, the project was in the steel erection phase, which provided the opportunity to view the foundation and steel placement. The students were provided with a set of design drawings and were asked to mirror the foundation layout in a field across the street. This was an excellent situation since they were able to view the real thing while it was still visible to see if their efforts matched the actual construction.
Instructors:
Howard Biggar
Tomas Beran
Sam Ng'ang'a
Dr. John Hughes Clarke - Hydro Operations
Click on the thumbnail image to look at a few photos taken during the camp, 94 KB.

Back to the top of the page

---
2000 Angus Hamilton Lecture

This year's Angus Hamilton Lecture took place on 8 May with guest speaker Karen Siderelis, who is the Director of the Center for Geographic Information and Analysis, Office of the Governor, North Carolina. This lecture series was inaugurated by the New Brunswick Land Information Council and the Geomatics Atlantic Trust Fund in honour of Angus Hamilton, Professor Emeritus, of our department. This year's lecture was supported by the Council of Maritime Premiers, the Geomatics Association of Nova Scotia, the Canadian Institute of Geomatics, and Geodesy and Geomatics Engineering.
Karen Siderelis's presentation was entitled: "What good is an information highway when a hurricane strikes and the road is closed?" She based the question on the devastation that Hurricane Floyd did to North Carolina in the fall of 1999. Floyd, the third in a series of major hurricanes to hit the east coast of the United States recently, forced the largest peacetime evacuation in history as some 2.6 million people had to flee their homes. The North Carolina Center for Geographic Information and Analysis provided ongoing support to emergency measures, disaster relief, law enforcement, and financial compensation organizations across the state and beyond. Both the use and limitations of geographic information systems technology and data for disaster assessment and hazard mitigation planning were severely tested.
Click on the thumbnail image to look at photos taken during the event, 80 KB.

Back to the top of the page

---
Prof. Langley in the News - Again

Richard B. Langley (Professor of Geodesy and Precision Navigation) was quoted in a recent CNN.com article about the U.S. government freeing up the civil GPS signal.
Click on the thumbnail image to go to the article.

Back to the top of the page

---
Richard Langley Wins Merit Award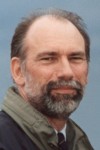 Our congratulations go to Dr. Langley who was notified on 26 April 2000 that he was one of the 1999-2000 UNB Merit Award recipients. These awards recognize and encourage faculty who have made an outstanding contribution to the University. Dr. Langley's on-going research, teaching, leadership in maintaining and enhancing the GGE Web site, and contributions to the international geodesy and navigation communities all played a role in his selection for one of this year's awards.
Click on the thumbnail image to go to Dr. Langley's personal page.

Back to the top of the page

---
Five Geomatics Canada Scholarships Awarded To Our Students

Five students from the department were awarded Geomatics Canada Scholarships in this spring's competition. This is a notable achievement, because only 9 scholarships are awarded across the whole of Canada.
The scholarships, funded by Natural Resources Canada and administered by the Canadian Institute of Geomatics, are valued at $1,500 each. They are awarded to students on the basis of academic performance and professional interest. Applicants came from Canadian universities and represented undergraduate as well as post-graduate students.
We would like to extend our congratulations to:
Jonathan Beaudoin, a fifth year Bachelor of Science in Engineering (Geomatics)/Bachelor of Computer Science student.

Mark MacDonald, a second year Bachelor of Science in Engineering (Geomatics) student.

Greg Mulholland, a Master of Engineering student under the supervision of Dr. John McLaughlin.

Kevin Pegler, a Ph.D. student under the supervision of Dr. David Coleman.

Stephen Rawlinson, a Master of Science in Engineering student under the supervision of Dr. Y.C. Lee.

Back to the top of the page

---
2000 CIG Student Paper Competition

The Canadian Institute of Geomatics (CIG), Fredericton Branch, continued its tradition of awarding a $100 prize for the best senior technical report and presentation. This year the event was held on 4 April in the new David Wells Multimedia Room (aka E-11). Four presentations were heard by a goodly crowd. Wayne Walsh and Dave Finley from CIG were the adjudicators.
Click on the thumbnail image to look at a couple of photos taken during the event, 63 KB.

Back to the top of the page

---
Anita Spence NSERC Scholarship Winner

Our congratulations go out to Anita Spence, one of our senior undergraduate students, on being awarded an NSERC Post-Graduate Scholarship covering Masters-level studies over the next two years.
This award is given only to the best and brightest students in Canada and reflects Anita's hard work and first-class grade point average. Anita first came to UNB in the fall of 1997. Before that she attended CIAT, Memorial University, and Cabot College. We wish her well in her future graduate studies.

Back to the top of the page

---
"Number 1 Since Year 1"

Once again, the Department has attained a UNB research ranking of 1 based on research productivity, publication record, number of graduate students, levels of funding, participation in research projects, and other criteria. The Department was joined at the top by only 3 other departments, namely, chemical engineering, chemistry, and history. As John McLaughlin (Vice-President, Research and International Co-operation) said in a recent
article in UNB Perspectives
, "The department of geodesy and geomatics appreciates the importance of having a No. 1 ranking, which it has had since Year 1. It is a ranking of national and international stature."

Back to the top of the page

---
Visiting French Student Develops GPS-based Vehicle Tracking System

Geoffroy Mery de Montigny, a final-year undergraduate student at the École Supérieure des Géomètres et Topographes in Le Mans, France, carried out his "Travail de Fin d'Études" at UNB's Department of Geodesy and Geomatics Engineering last year.
For his "travail" (a practicum or practical workterm experience), Mr. de Montigny developed a real-time vehicle tracking system. Unlike commercially-available systems costing thousands of dollars, Mr. de Montigny's system was put together using "off-the-shelf" components already available in the department and used for other purposes including software developed primarily for amateur radio operators.
Mr. de Montigny carried out his work in Prof. Richard Langley's satellite navigation and positioning group, well known for its research in aircraft navigation.
The heart of the vehicle tracking system is a Navstar Global Positioning System (GPS) receiver. The GPS receiver, which is mounted in the vehicle, is coupled to a very-high-frequency (VHF) transmitter, basically a taxi radio, that sends packets of digitally-encoded position reports from the GPS unit to a VHF receiver at UNB. The receiver passes on the reports to a personal computer which displays the position of the vehicle on a geo-coded detailed map of Fredericton. The position reports are accurate to about 100 metres. While this accuracy is sufficient for many tracking purposes, the accuracy can be enhanced to the few-metre level by using differential correction data from a Canadian Coast Guard transmitter in Saint John. Both the vehicle's current position and where it has been can be displayed.
Mr. de Montigny's system has the capacity to track not just one vehicle but whole fleets of vehicles such as police cars, ambulances, delivery trucks, or taxis. Although the prototype system was limited to line-of-sight distances from UNB's Gillin Hall engineering building, the tracking range could be extended using repeater stations, cellular telephone links, or satellite relays.
Click on the thumbnail image to get a better look at the test vehicle, 67 KB.

Back to the top of the page

---
Welcome to New Faculty: Marcelo Santos and Yun Zhang

In January 2000, Dr. Marcelo Carvalho dos Santos joined our Department as an associate professor. Dr. Santos, who is a 1995 Ph.D. graduate from UNB in geodesy and geomatics engineering, comes to us from the geomatics department of the Federal University of Paraná (Universidade Federal do Paraná), in Curitiba, Brazil. Marcelo, in addition to his most recent university position, has also taught at the Directorate of Hydrography and Navigation of the Brazilian Navy and the Rio de Janeiro State University. Dr. Santos will be teaching geodesy, applied analysis, and imaging and mapping, and continuing his research on various topics related to the Global Positioning System.

In February 2000, Dr. Yun Zhang joined the Department as an Assistant Professor, to teach imaging and mapping. Dr. Zhang joins us from The University of Calgary where he was a Post-Doctoral Fellow. Yun received his Ph.D. in photogrammetry and cartography in 1997 from the Berlin Free University, and has gained industrial experience with the Institute of Planetary Exploration of the German Aerospace Center. He will be continuing his research in the areas of remote sensing, and digital photogrammetry and image processing.
Click on the thumbnail images to go to their respective personal pages.

Back to the top of the page

---
Prof. Langley in the News

Richard B. Langley (Professor of Geodesy and Precision Navigation) has appeared a couple of times recently in the print medium. In November, he was quoted extensively in an article by Karen Joan Watson, entitled "Global Positioning Systems, Dick Tracy, Call Home!" published in
Forum, Canada's National Municipal Affairs Magazine.
In the article, Watson recalls that it was the Department's satellite navigation experts who predicted in 1983 that a GPS-type receiver the size of a wristwatch would be available in the twenty-first century. Technology advances more rapidly than we often imagine and, thanks to Casio who brought out a $750 GPS wristwatch receiver in 1999, the prediction came true before the twenty-first century began.
Prof. Langley has also appeared in the December issue of UNB's Perspectives. A press release detailed the work being done by researchers in the Department to enhance GPS in aircraft navigation.
Prof. Langley continues to produce the acclaimed "Innovation" column each month in GPS World magazine - a charge he has carried out ever since the magazine was first issued in January 1990.

Back to the top of the page

---
To look up and not down,
To look forward and not back,
To look out and not in, and
To lend a hand.
Edward Everett Hale, Rule of the "Harry Wadsworth Club."
Message from the Department Chair: A Sea Change

On 1 January 2000, Prof. John Hughes Clarke assumed the role of Chair in Ocean Mapping and Director of the Ocean Mapping Group, and became an associate professor at UNB. With over 15 years of experience here and at Dalhousie University, Bedford Institute of Oceanography, and James Cook University, Australia, Dr. Hughes Clarke led the UNB team called in to locate the debris field of Swissair Flight 111 in the fall of 1998. An oceanographer and member of the Ocean Mapping Group at UNB since 1991, John's research interests focus on improving swath bathymetry and acoustic imaging systems to better investigate the ocean floor. We look forward to the closer involvement of John in the Department's regular doings.
Also beginning in January, Prof. Larry Mayer assumed the directorship of the University of New Hampshire's new Center for Coastal and Ocean Mapping in Durham, New Hampshire. He has been joined there by Dr. Colin Ware, a former member of the Ocean Mapping Group and of UNB's Faculty of Computer Science; a team of researchers from Heriott Watt University in Scotland; a contingent of NOAA officers and scientists on assignment there; as well as a number of former UNB graduate students (Semme Dijkstra, Hou Tianhang).
Larry became the ocean mapping chairholder in 1990, and his friendliness, energy, high standards, and marvellous sense of humour contributed greatly to the success of the Ocean Mapping Group. They will doubtless serve him well during his one-year leave of absence as he works to establish the New Hampshire Center and bring it to a level of funding and resources similar to those enjoyed by the Ocean Mapping Group at UNB. He will work towards forging a strong partnership between the two groups. To this end, it is expected that some UNB faculty will be named to adjunct positions at the University of New Hampshire.
Prof. David Wells, the former Ocean Mapping Group director and recently retired from UNB, is also taking on a new part-time assignment. With the help of the U.S. Navy, he has been asked to develop a new ocean mapping program at the University of Southern Mississippi, at Stennis Space Center. Dave will stay on in his role as Professor Emeritus at UNB and continue his work here during the summer and fall months. Come winter, however, he will turn snowbird and reside in Mississippi. (See the following story for more details.)
We are sorry to see Larry leave, but we welcome John and wish both John and Larry the best of luck in their new positions. Click on the thumbnail image to look at pictures taken during a small farewell and transfer-of-power gathering that was held in the Department, 130 KB.

Back to the top of the page

---
David Wells Bound for the "Playground of the South"

Gulf Coast, magnolias, mansions, beaches, sun, sand, and surf. These words could describe David's next few months, but to be more realistic, his sojourn at the University of Southern Mississippi will probably entail teaching, training, listening, learning, and 24-hour work days. From January to May 2000, David will be fulfilling a subcontract with
The University of Southern Mississippi's Department of Marine Science on NASA's John C. Stennis Space Center
, near Bay St. Louis, 70 km east of New Orleans. This department specializes in graduate studies and research dealing with the many aspects of marine and aquatic environments. David's particular contributions will be two courses, one in applied bathymetry and the other in satellite geodesy and positioning.
Aside from teaching these two courses, David will also be giving advice on strengthening the new curriculum to the Hydrographic Science Program Coordinator, his immediate supervisor, who is André Godin (M.Eng., 1997 under the supervison of D. Wells!), and to the project director and chair of the department of marine science, Dr. Denis Wiesenburg. David would like to title this story, "Professor Emeritus Works for Former Graduate Student."
What David finds most exciting about the positive outreach of his southern venture (other than escaping the Fredericton winter) is that our program at UNB will benefit from the links being established with The University of Southern Mississippi (USM). David will be gaining insight from the extensive sea experience of USM students, all U. S. Naval Oceanographic Office employees and officers. The possibility of combining the UNB and USM practical field experiences could be of great benefit to the students from both universities.
We wish David well in this endeavour, and expect him to return in May full of new ideas and enthusiasms.

Back to the top of the page