GGE News - 1995
---
Russian State Land Resource Committee Visits Department

For five days in December 1995, the Russian flag was flying high at the Fredericton Inn in honour of the 19-person delegation visiting UNB. Canada was one of six countries being evaluated by the Russian Land Resource Committee (ROSKOMZEM) for potential assistance in geomatics training and education to support cadastral system development under the World Bank's Land Registration Project (LARIS). The delegation was hosted in Fredericton by UNB's Department of Geodesy and Geomatics Engineering, in conjunction with the UNB Centre for Property Studies.
The delegation visited the N.B. Geographic Information Corporation (NBGIC) and expressed great interest in their integrated approach to land registration, valuation, and cadastral mapping. Other visits included UNB's Faculty of Law, which has been involved in recent legislative changes to support cadastral systems, and Universal Systems Limited (USL), which provides GIS training courses and now has a Russian version of CARIS. Our Department's tradition of partnerships with government organizations, private firms, and academic institutions, such as Nova Scotia's College of Geographic Sciences, was highlighted.
The delegation had an opportunity to meet with the faculty of our Department, both through technical discussions and at several social functions, including, of course, a hockey game. We were fortunate to be able to draw on several of our professors and graduate students who speak Russian, including Adam Chrzanowski who cut a very fine figure as Santa Claus at the final lobster supper!
Click on the thumbnail image to fetch the full-sized version, 44 KB.

Back to the top of the page

---
Former Graduate Student Appointed Surveyor General of Namibia

We were pleased to hear of the appointment of our former graduate student, Dr. Karim Owolabi, to the position Surveyor General of Namibia, effective 30 November 1995. Dr. Owolabi received his Ph.D. in 1989 from the Department. His dissertation was on the simultaneous distributional and model robustness in photogrammetric bundle block adjustment, under the supervision of
Dr. Wolfgang Faig
.
Dr. Owolabi came to UNB in the fall of 1984 as a Commonwealth Scholar from Nigeria and held his Canadian Commonwealth Scholarship until May 1989. Owolabi obtained an M.Sc. in surveying in 1982 from the University of Lagos. He had already completed a Postgraduate Diploma in Surveying in 1979 subsequent to obtaining a first class B.Sc. degree in statistics from the University of Nigeria in Nsukka.
Upon completion of his Ph.D. degree at UNB, Owolabi returned to Nigeria to assume the post of Assistant Lecturer at the University of Lagos.
We wish Dr. Owolabi great success in his current endeavours.

Back to the top of the page

---
Undergraduate Student Awarded Institute of Navigation Prize

Rupert Brooks was awarded UNB's Institute of Navigation Prize for 1995. This prize, generously donated by the
ION
, is awarded to the student achieving the highest mark each year in the undergraduate course "Space Geodesy." In addition to a cheque for $250 (American dollars!), Rupert received a framed certificate.
Click on the thumbnail image to fetch the full-sized version, 148 KB.

Back to the top of the page

---
Retreat '95

Departmental faculty members gathered at Ponds Resort, on the famous Miramichi River, 3-4 November 1995, for our "first annual" retreat. We began the process of developing a new vision for the undergraduate curriculum and for our profession. Watch this space for updates, as our vision is put into concrete course offerings.
Click on the thumbnail image to fetch the full-sized version, 101 KB.

Back to the top of the page

---
Multibeam Sonar Survey

In late October 1995, our undergraduate hydrographic surveying students executed a multibeam sonar survey under the Burton Bridge, 30 km downstream from Fredericton, crossing the Saint John River. This provided a unique opportunity for our students to be exposed to state-of-the-art hydrographic survey equipment, thus giving them an advantage in today's job market. We were able to provide this experience due to the generosity of
Reson
who loaned us a SeaBat multibeam system, Seatex A/S who loaned us an MRU-6 attitude sensor, and
Coastal Oceanographics
who supplied us with their Hypack software. We hope to repeat this survey annually, in order to monitor scouring around the bridge supports.
Click on the thumbnail image to fetch the full-sized version, 101 KB.

Back to the top of the page

---
John McLaughlin's Work in Peru
Winning National Attention

Over the past four years,
John McLaughlin
has made almost 50 trips to Peru. In consultation with the Institute of Liberty and Democracy, a non-profit organization working to build communities in the poorest areas of Peru, McLaughlin has seen several hundred thousand titles for land pass into the hands of her indigent citizens. McLaughlin's work was reported in the September 1995 issue of the New Brunswick Reader of the Saint John, New Brunswick,
Telegraph Journal
, by Don Cayo and Julie Oliver. This feature subsequently won the National Newspaper Award for Special Projects and the Canadian Association of Journalists award for conflict analysis.
Click on the thumbnail image to fetch the full-sized version, 216 KB. (Julie Oliver photo)

Back to the top of the page

---
UNB Team Given Best Paper Award
at ION GPS-95

The Institute of Navigation selected a paper authored by graduate students Virgilio Mendes and Paul Collins along with Prof. Richard Langley as the best paper in the session "GPS Reference and Testing" at the ION GPS-95 conference held in Palm Springs, Calif., in September 1995. The paper, "The Effect of Tropospheric Propagation Delay Errors in Airborne GPS Precision Positioning", is available from
the CANSPACE file archives
.(144 KB, PDF)
Click on the thumbnail image to fetch the full-sized version, 99 KB.

Back to the top of the page

---
ION Student Paper Competition Winner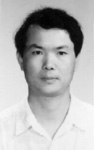 Xu Benlin was selected one of the winners of The Institute of Navigation Satellite Division's 1995 student paper competion held in Palm Springs, California in September 1995. Xu is a Ph.D. student, from Fuzhou, People's Republic of China, specializing in geodesy. His winning paper, which appears in the proceedings, is entitled "A New Navigation Algorithm Using Only Information from Measurement."

Back to the top of the page

---
Department Enters into Partnership
with High Schools

In August 1995, the Department entered into partnership agreements with Albert Street Junior High School, Fredericton, and Woodstock High School, Woodstock. This is the beginning of the Department's initiative to keep high school students interested in mathematics and science and to give these students an understanding of the geomatics profession which uses mathematics and science to solve real-world problems. In the photo seated L to R: Bruce McMillan, principal, Woodstock High; Byron James, assistant deputy minister of education; Robin Armstrong, president, UNB. Standing L to R: Alfred Kleusberg, chair, Department of Geodesy and Geomatics Engineering, UNB; Kevin Pottle, principal, Albert Street Junior High; Michael Ircha, acting dean of engineering, UNB.
Click on the thumbnail image to fetch the full-sized version, 135 KB.

Back to the top of the page

---
Olayinka Adekoya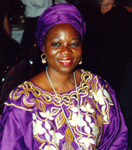 We were saddened to recently receive the news that our former graduate student, Mrs. Olayinka Adekoya, had passed away very unexpectedly in June 1995. Mrs. Adekoya was Nigeria's Surveyor General, a position she had held since 1994.
Miss Olayinka Lasebikan arrived in Fredericton in 1965 to pursue her bachelor degree in surveying engineering. She married Olungbega Adekoya in 1966, completed her B.Sc.E. in 1969, and went home to Nigeria with her husband. In 1971 they both returned to Canada, and Olayinka obtained her M.Sc.E. degree in 1973. Her thesis on the application of two-media photogrammetry in coastal mapping was supervised by Dr. Salem Masry. Many of us remember Mrs. Adekoya in full Nigerian dress, gliding up and down the corridors of academia, persuasively convincing us to purchase cosmetic products that we would never use, yet completely unable to resist her wonderful personality.
Adekoya had joined the Nigerian Federal Surveys in 1965 where her specialty was photogrammetry. In 1984 she was elected President of Commission VI of the International Society for Photogrammetry and Remote Sensing. In 1987 she became Principal of the Federal School of Surveying in Oyo, and was appointed Deputy Surveyor-General of Nigeria in 1988.
In October 1994, the Department had been looking forward to greeting Mrs. Adekoya at a FIG/Geomatics Atlantic annual conference held in Fredericton, but political problems at home kept her from attending. In March 1995, a symposium was held in Lagos, Nigeria, to honour the achievement of Mrs. Olayinka Adekoya on the occasion of her 50th birthday. Little did the participants at either event think that the world would soon be a poorer place for her absence.
We join her friends and associates from around the world in expressing our sympathy to Olayinka's family. We know how much this kind, friendly, enthusiastic, and regal woman shall be missed.

Back to the top of the page

---
AGU Outstanding Student Paper Winner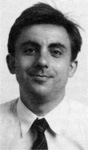 Attila Komjáthy won "Outstanding Student Paper" honours at the May 1995 Spring Meeting of the American Geophysical Union held in Baltimore, Maryland. Komjáthy is a Ph.D. student, from Sárvár, Hungary, specializing in geodesy with a concentration on extraterrestrial positioning techniques for high-precision geodesy and navigation. His research efforts have focussed on the Global Positioning System and its applications, especially on how the ionosphere affects the GPS signals. Komjáthy's winning paper is entitled "A Comparison of Predicted and Measured Ionospheric Range Error Corrrections." This paper was co-authored by
Prof. R.B. Langley
, of UNB, and Assoc. Prof. F. Vejrazka, of the Department of Radio Engineering, Czech Technical University. A copy of the paper (in ZIPed PostScript format) can be
retrieved (267 KB)
from the CANSPACE File Archives.

Back to the top of the page

---
Thirtieth Anniversary of Mt. Kennedy Expedition

In March and April, 1965, Mount Kennedy (situated in the south-east corner of Yukon, Canada) experienced more human activity on its slopes than probably had taken place in the previous million years. On 23 March, then Senator Robert Kennedy climbed the 13,900 foot mountain, named after his assassinated brother, to plant on the summit a black bordered flag with his family's coat of arms.
In April, a three-man team from UNB joined the expedition at the invitation of the National Geographic Society and the Museum of Science, Boston, the main sponsors of the expedition. Gotfried Konecny, Adam Chrzanowski, and Peter Wilson of UNB spent several weeks establishing the ground geodetic control for the photogrammetric survey. The Tellurometer MRA2 and Wild T2 and T3 theodolites were used in the geodetic survey. Frequent blizzards and hurricane force winds meant that the survey crew spent more time holding down their tents than on the survey itself. Steep icy slopes and heavy loads of equipment made the survey dangerous and exhausting. At one point, a snowstorm kept the survey team in a small tent for 10 days, 30 km from the base camp, with food for only 3 days. Everyone survived although they were thinner for the experience. Finally, a beautiful contour map of the mountain was compiled at UNB with the help of Gerhard Gloss and printed in colour by the National Geographic Society.
Click on the thumbnail image to fetch a few photos taken during the expedition, 477 KB.

Back to the top of the page